Android Mobile App v. 8.40 | Release Date: July 17, 2023
Visual Identifier for Folder Shared with Standard User
New badges were introduced for folders to which standard users have access. With the addition of the badge placed to the right of the folder icon, you can now easily identify and distinguish folders that have been shared with standard users and or external collaborators.
The badges that identify folders shared with standard users are being rolled out in phases to our customers' domains so if they aren't visible in your domain yet, they will be added shortly.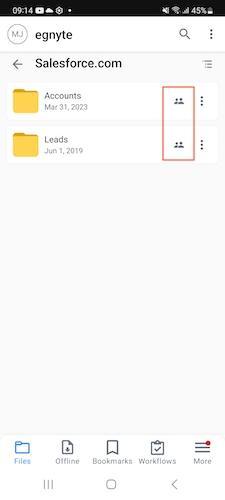 How to Upgrade
To upgrade to the latest version of the Egnyte mobile app and take advantage of the latest enhancements, download the Egnyte Android App, v. 8.40 from the Google Play Store.