Migration App UI v1.24.0 / Agent v3.23.0. Release Date 6/5/23
Job Scheduling Phase 2
Initially, this is not enabled by default on all domains, but is available by request.
With Phase 2, you can now schedule a job to run not just one time in the future, but at regular intervals for up to 20 times.
From Advanced Options, clicking on Scheduler brings up the configuration page.

Click On to Enable Scheduler and then choose between scheduling the job to "run once in the future," or to "run at regular intervals."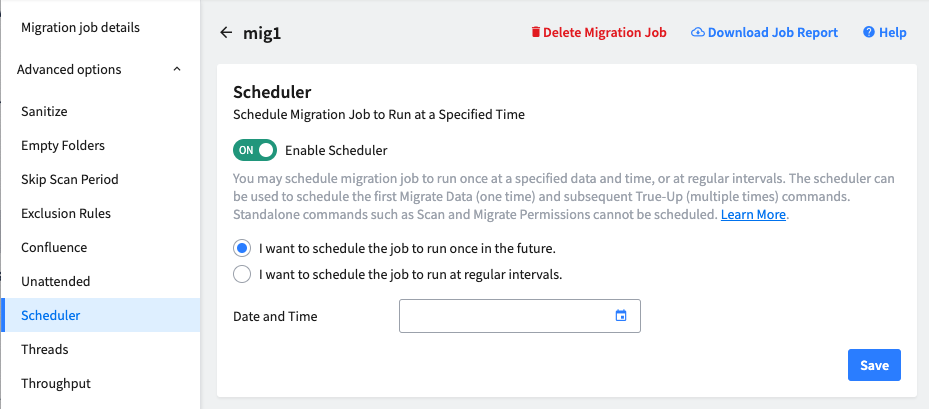 If you select the first option, a calendar picker is offered to select a date and time. Date and time selected must be in the future. Time slots are at :15 intervals, are presented in military time and reflect the clock on the host where the agent is installed. If no time is selected, time will default to 00:00.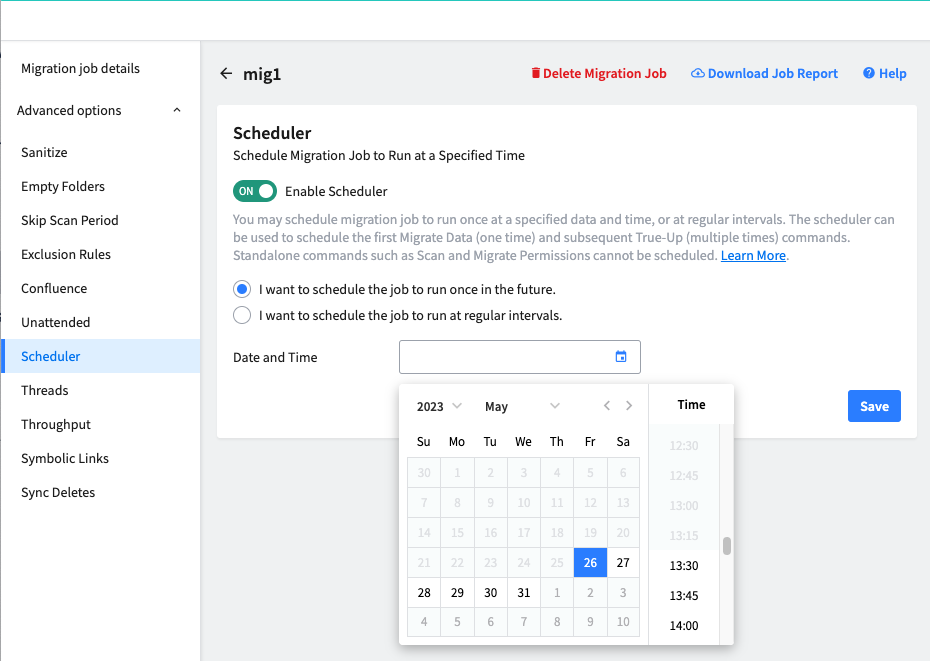 If you select the second option, you will also be prompted to select the frequency.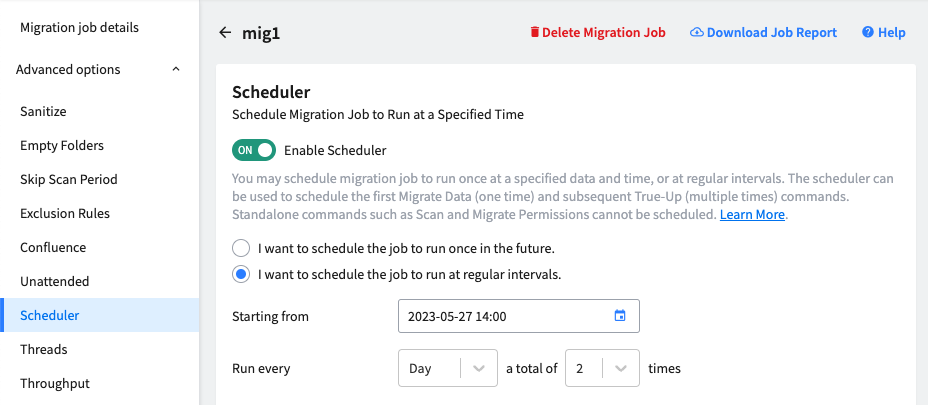 In either case – running one time in the future or running at intervals – additional queries will be revealed in the dialog, prompting you to make selections regarding Empty Folders, Sanitizing and Syncing Deletes.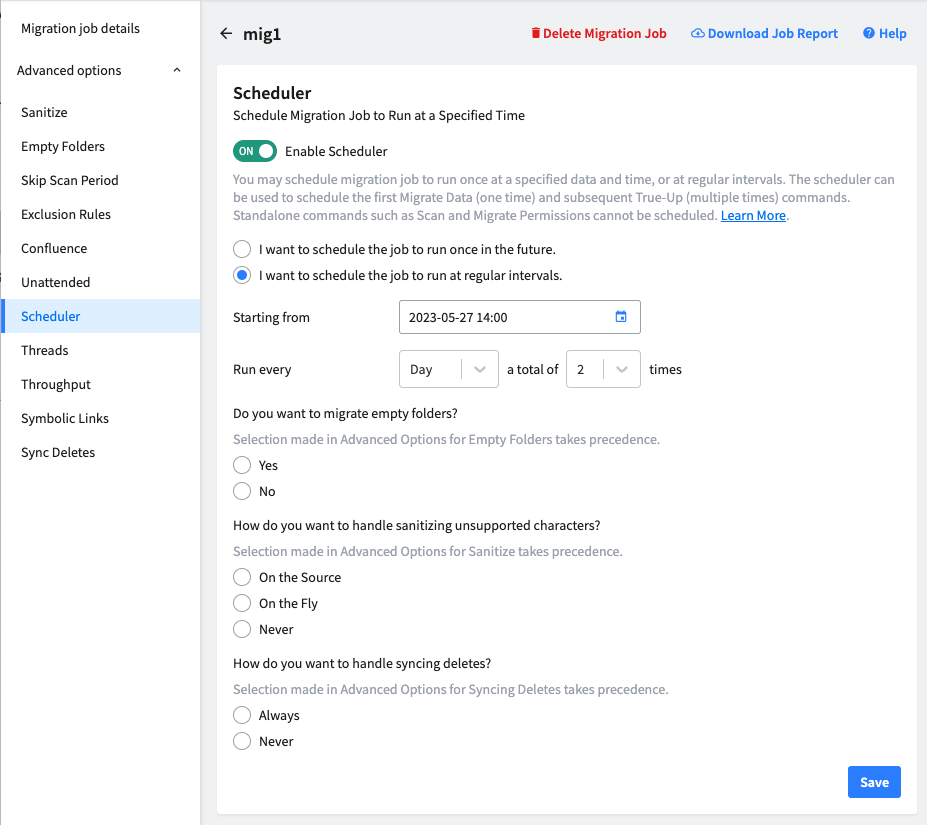 Make your selections and click Save. Your configuration details will be confirmed at the top of the page in the blue box.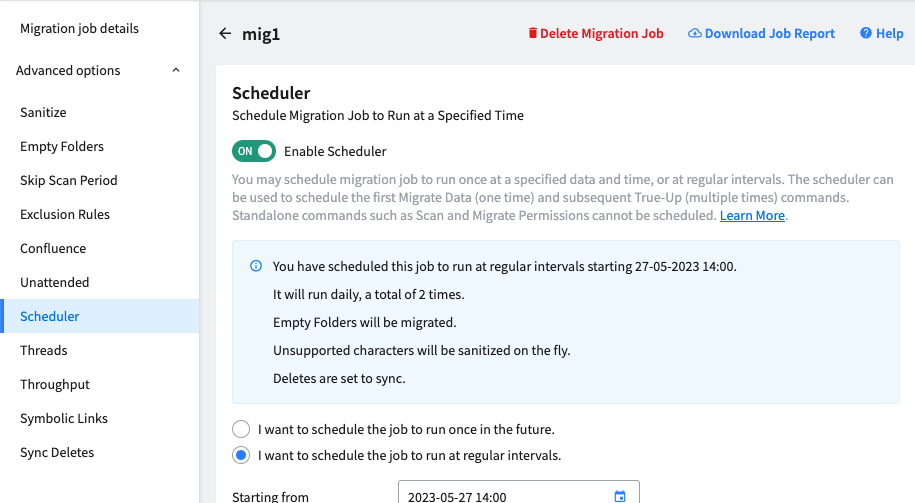 In the right column, under Other Details, hovering over the clock icon next to Scheduler will reveal the next scheduled run.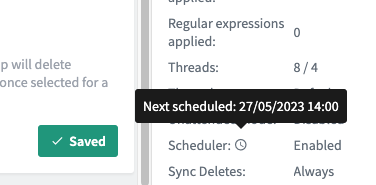 When Scheduler has been enabled for a job, on the Migration Dashboard a clock icon will appear next to the status of the job. Hovering over the clock icon will display when the job is scheduled to run.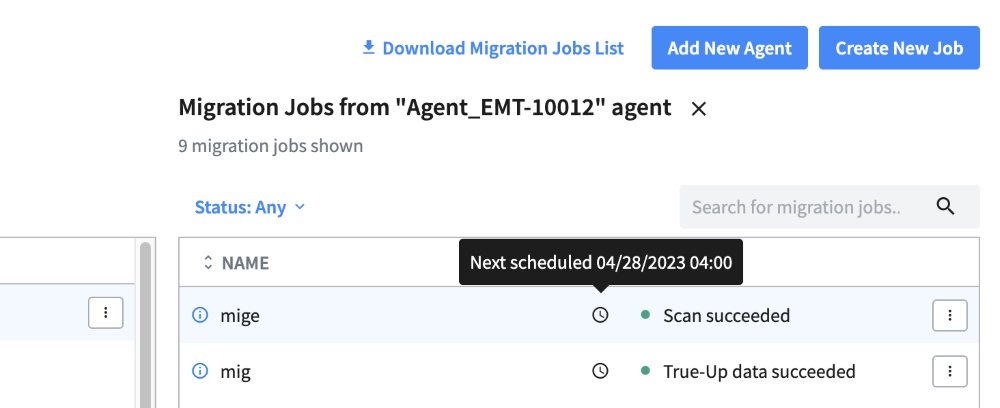 Minor considerations:
Once a job has been scheduled, User may change the date and time to another point in the future.

If both Scheduling and Unattended Mode are enabled, Unattended Mode will take precedence and the Scheduled job will not run.

Other conditions that will result in a failed scheduled job:

If the job is in conflict and Confluence mode is not enabled.

If the Agent is inactive

If an Agent Upgrade is running

If a Migration Command is already running
Currently, the job will simply fail if these conditions are present. In a future release, each of these conditions will be addressed with a specific error message.
Unattended Mode is Sunsetting Soon
Now that the Scheduler offers the ability to set a job to run at regular intervals, at specific days and times, Unattended Mode is no longer a needed feature. If you have been using Unattended Mode, we recommend you switch over to the Scheduler at your earliest opportunity to enjoy uninterrupted performance.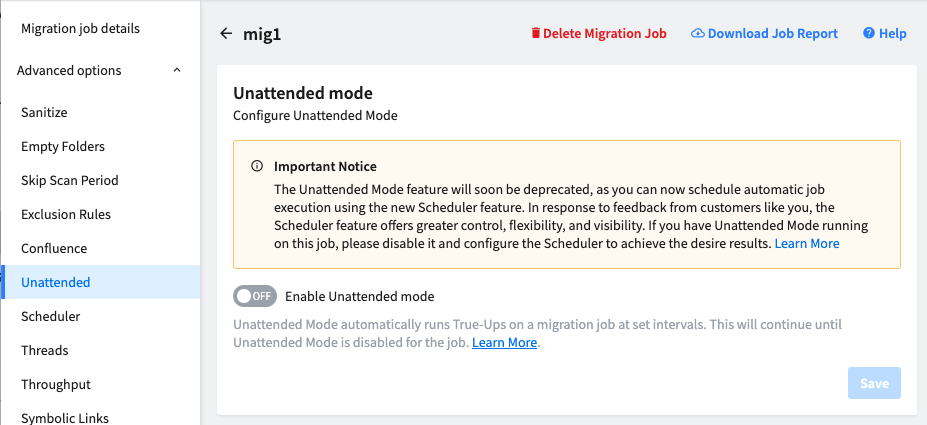 Bulk Upload Delivers Improved Performance
With this release, Migration App now uploads small files in batches, using the build upload API. This results in improved performance and speed of migrations.
Support for Custom Domains
Most customers use a standard Egnyte domain such as www.MyDomain.egnyte.com. But some customers also have custom domains that access the same Egnyte cloud content. For example: www.cloudfiles.Customer.com or www.Collaborate.Customer.com. Previously, customers with a custom domain were required to use their standard domain to use Migration App. But with this release, a single user can access Migration App via either the custom or primary Egnyte domain.
Agent should be connected using primary Egnyte domain. Otherwise, the same dashboard will be presented to the user, regardless which domain they are logged into.
Additional Information and Resources