Release Date: May 22, 2023 Secure & Govern 18.7 Release
Direct Permission Editing for Windows File Servers (WFS)
Egnyte Secure & Govern now supports permission management for Windows File Servers (WFS). Administrators and Data Owners have the ability to add, modify and remove permissions at the folder level.
For more information on adding, editing and removing permissions for WFS, refer to Managing WFS Permissions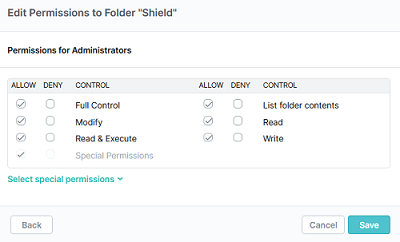 Public Links - Add Link Expiry Information (Egnyte Sources Only)
The Public Link Details view has been improved. Public link expiry information has been added so users can now view the number clicks or date when the public will expire.